2011.
by TtuEd on mar.19, 2011, under 2011.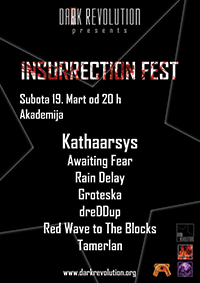 Događaj #32 | Indurrection Fest #1 | Poseta: 241
Datum: 19.03.2011. | Vreme: 20:00
Lokacija: klub Akademija, Beograd
Program:
——-
Koncert bendova:
Kathaarsys (Santiago de Compostela, Španija)
Awaiting Fear (Beograd)
Rain Delay (Beograd)
Groteska (Novi Sad / Beograd)
dreDDup (Novi Sad)
Red Wave to The Blocks (Beograd)
Tamerlan (Novosibirsk, Rusija)
——-
Afterhours:
Dark Revolution Inferno DJ team
Komentari su isključeni

na Insurrection fest (DR32IF1)
:Akademija, Inferno, Insurrection
more...